New '96 Hour: Tune in 24 September with Jenn Campbell and Patrick Shearon
Posted: 9/21/2021
This Friday, we'll be talking with Patrick Shearon, founder of supply chain project leadership company, North Sky Leaders. Though his background as a USMC Logistics Officer got him an early start in this field, Patrick attributes much of his success to the principles he learned and practiced at USNA. Join us to learn more about the field of supply chain management, founding a company, and how USNA set him up for success. He's got an inspirational message as well as client cases to share–you DO NOT want to miss this!
The New '96 Hour with Patrick Shearon
Topic: Delivering Success through Supply Chain Leadership
Date/Time: September 24 at 1pm ET
Register here. Remember that you've got to be *LIVE* with us to get your questions answered. See you then!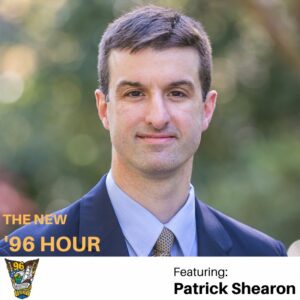 «
Memorial Service for Mike 'Gibby' Gibson Held in Oklahoma on 18 September
25th Reunion
BEAT ARMY!!!
Recent Posts
Post Categories
Most Used Tages
Search the 1996 Site