25th Reunion
BEAT ARMY!!!
Recent Posts
Post Categories
Most Used Tages
Search the 1996 Site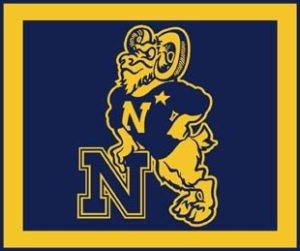 Caught several posts earlier this month and right around Veteran's Day featuring stories about classmates, so to continue that thread of sharing out into the latter parts of November, here's a great one for you. CAPT Tim Kinsella, currently serving as CO of NAS Pensacola, had the honor of participating in a unique ceremony on Veteran's Day this year – the dedication of the 75th Gold Star Families Memorial Monument. The monument was built at Veteran's Memorial Park on NAS Pensacola and unveiled on 11 November. Present for the ceremony was Hershel "Woody" Williams, who is one of the two living Medal of Honor recipients who fought at the Battle of Iwo Jima. I'll link the press release here, but I also caught a lot of traffic (and great pictures) about this event on the Internet of Things. Quoting Tim, who writes that he "spent a moment with a national treasure, today, Hershel "Woody" Williams. It's not every day you get to salute a recipient of the Medal of Honor." Indeed, Tim. What an honor!
Local press release here.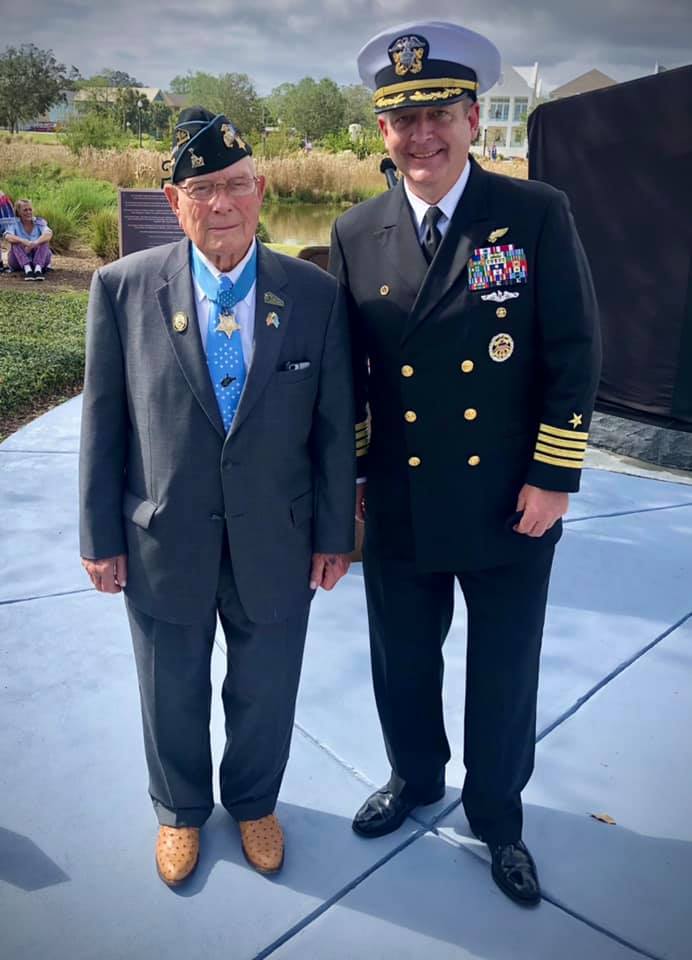 Interested in the story of Broadside? (If you're not, you better be in front leaning rest.) I totally missed the live event earlier this month, which was hosted by Ringknocker (Virtual Meetups), but luckily there's YouTube in our lives. Click below to access the recorded interview:
Original post: Jeff Bacon is the creator of BROADSIDE, the comic strip that captured every aspect of the Navy experience in the Navy Times for over three decades. Here Jeff shares the story of how it all started. Are you a current or former United States Military officer? Join a RINGKNOCKER Virtual Meetup! Learn more at https://www.ringknocker.net/meetups.
Just plucked from the July 2020 edition of Wavetops: an interesting tidbit buried in the sidebar… a book title collection. Looking for reading material? Check out the Lucky Bag of Books, an electronic collection of reading material championed by the Alumni Association and Foundation, with links to purchase (via Amazon). There are over a hundred titles to peruse. Surprisingly, the subject matter varies greatly beyond the expected sea chronicles, histories, and new-era "Clancy-esque" novels. There are children's titles, as well, and an interesting looking fantasy series by a '10 grad that harkens back to Carnival Row, a binge-worthy Amazon Prime series that debuted last year (and which I may or may not have watched in a single weekend). Check this collection out if you need more Kindle fodder (and who doesn't?) or are looking for gifts.
From the Alumni Association: "The Lucky Bag of Books is a varied collection of fiction and non-fiction books, some written by alumni, some are about alumni and subjects of interest including children's books. When you purchase through the Alumni Association and Foundation partnership with Amazon, they will provide a 4-8% share of your order total to our organization."
In other book-related news, the Fall 2020 collection being released by the U.S. Naval Institute press is available for pre-order now (view/order here).
---
I was intrigued by the reference to a Lucky Bag, so I took a little side trip through the halls and stacks of Wikipedia to dig in a bit more. The 1940 edition of Bluejacket's Manual reminds us to keep track of our articles, lest they become loose and cause us strife in accountability. [Triggers dim reminders of Plebe Year.] As printed: "The lucky bag is a place where the police petty officers stow for safe-keeping effects that are found adrift about the ship. All clothes, etc., found about the decks are placed in the lucky bag. When clothes are piped down, the police petty officer attends and takes care of all clothes not called for and places these in the lucky bag. All effects in this bag belong to the person who lost them. At frequent intervals the lucky bag is opened and the effects distributed to the owners. Where persons have been guilty of carelessness in leaving their effects adrift, they are placed on the report." According to the log of the USS Yosemite, on June 24, 1898 several sailors were given 72 hours extra duty for having an article in the lucky bag.
"Every man-of-war, you know, has her Lucky Bag, containing a little of every thing, and something belonging to every body. For variety of contents, a regular Lucky Bag may vie with the caldron that witches boil and bubble "at the pit of Acheron."                   horse of middy and waister's sock,
dresses of a cat mouse game
Purser's slops and topman's hat,
Boatswain's call and colt and cat,
Belt that on the berth-deck lay,
In the Lucky Bag find their way;
Gaiter, stock and red pompoon,
Sailor's pan, his pot and spoon,
Shirt of cook and trowser's duck,
Kid and can and "doctor's truck,"
And all that's lost, and found on board,
In the Lucky Bag is always stored."
Printed under the column "Scraps from The Lucky Bag," Southern Literary Messenger Vol. VI No. 4, Richmond, April, 1840
I ran across a cool podcast last weekend that was put together by the Naval Academy Museum staff and posted with a brief narrative from USNA:
"This year's Commissioning Week is certainly different than most years but it's not the only unusual Commissioning Week – did you know that the Naval Academy class of 1907 graduated three times? And the USNA Class of 1865-B didn't graduate until after they came back from their summer cruise in September of 1865. Listen to the newest Preble Hall podcast  to learn more about the history and traditions of Commissioning Week from Mr. James Cheevers, the senior curator/historian emeritus of the Naval Academy Museum from 1967 – 2017."
Full content here, including summary and episode notes. The Apple Podcast version is here. There is also a link to other episodes if you are suffering from quarantine boredom and want to learn some more Academy history – or if you are running out of home schooling material!