25th Reunion
BEAT ARMY!!!
Recent Posts
Post Categories
Most Used Tages
Search the 1996 Site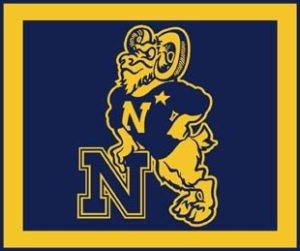 This Friday, we'll be talking with Patrick Shearon, founder of supply chain project leadership company, North Sky Leaders. Though his background as a USMC Logistics Officer got him an early start in this field, Patrick attributes much of his success to the principles he learned and practiced at USNA. Join us to learn more about the field of supply chain management, founding a company, and how USNA set him up for success. He's got an inspirational message as well as client cases to share–you DO NOT want to miss this!
The New '96 Hour with Patrick Shearon
Topic: Delivering Success through Supply Chain Leadership
Date/Time: September 24 at 1pm ET
Register here. Remember that you've got to be *LIVE* with us to get your questions answered. See you then!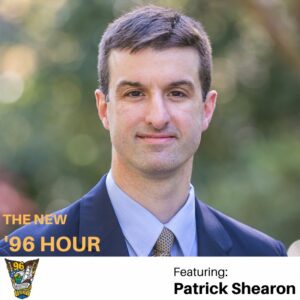 Welcome to the new season of The New '96 Hour! We've got a booming season ahead with a great lineup of guests, and we start with a powerhouse: Joe Crandall. He's the owner & CEO of a fully veteran-operated consulting company, and he also works behind the scenes to make Veteran Shark Tank the premier pitch competition for veteran entrepreneurs. Join us to learn more about his story, the highs and lows of running a consultancy, and how he's made "veteran-owned and veteran-operated" into a force multiplier for growing veterans and growing business.
The New '96 Hour with Joe Crandall
Topic: Growing Veterans, Growing Business
Date/time: Aug 20 at 1:00pm ET
Register here! Remember that you've got to be *LIVE* with us to get your questions answered. See you then!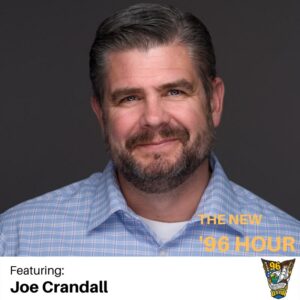 From Jenn: Hey classmates, I've been working on something for my business that I'd love your help with. After 15 years of coaching and training leaders for companies and agencies, I've finally launched an open-enrollment program that anyone can join. It's called Project Arete Leadership, and in the course of 6 months, my faculty, coaches, and I will be teaching leaders how to realize the full potential of their team. It will be a truly transformative experience. I'm offering full scholarships for up to three nonprofit leaders in the inaugural cohort that begins June 23rd. Applications for the scholarships are due on Monday, June 7th. Registration for the event ends June 9th (there are 14 spaces available still).
Here's the help I'd love from you:
If you know of a nonprofit leader who might be a good fit for the program, please forward this link to them.
If you're interested in sponsoring scholarships for nonprofit leaders, please check out this link, too. I'm committed to this work and am willing to fully fund them myself–and I'd also love the help of other committed leaders and organizations. And the more support we have, the more scholarships we can offer, the more good we can do!
https://www.awakenedleader.com/project-arete-scholarships
You can learn more about the program here: https://www.awakenedleader.com/project-arete-leadership
If you have questions, please get in touch: jenn@worldAWAKE.net
Thanks so much for your support–of me, of our fellow classmates, and of those who want to do good in the world.
Mark Mhley takes "mission-driven" to a new level. On Friday, March 26th, we get to hear from Mark about two big transitions: the first from active duty into civilian life, and the second from one business venture to another. The pivot in his business is an extraordinary one, led by both an evaluation of the market and a steady commitment to his purpose. If you've struggled with the balancing act of making the "smart" decision with staying true to yourself, ideally hoping to make the "right" decision, you'll want to join us! Mark faced down fear and uncertainty, built connections, and found fulfillment and success on a very different path than the one he started on. Learn more about how he made the difficult decisions required to execute such a shift.
The New '96 Hour with Mark Mhley
Topic: Navigate the Pivot
Date/time: March 26 at 1pm ET
Register here! Remember that you've got to be *LIVE* with us to get your questions answered. See you then!
You can't miss this event on Friday! Whether you want to transition into a new role or sector, or you have entertained entrepreneurial ideas, you'll want to join me as I interview Eddie Buckles Jr for the New '96 Hour. Eddie's track record is incredible. He has held a wide range of roles and has started companies across multiple sectors, and when we talk on February 26, he'll be sharing his insights on how his Naval Academy and active duty experience set him up for success.
The New '96 Hour with Eddie Buckles
Topic: Seize the Initiative: What a USNA Grad Can Contribute to the Corporate World
Date/Time: February 26 at 1pm ET
Register here. Remember that you've got to be *LIVE* with us to get your questions answered. See you then!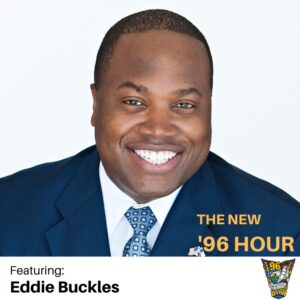 Time: 1:30pm-2:30pm EST
Late breaking – just saw this on the wire. Patriot Boot Camp will be hosting Dennis Volpe this afternoon for a live webinar. Please join Patriot Boot Camp and Dennis Volpe, Principal, Leadership Research Institute as we discuss "Entrepreneurship and Resiliency." Q & A will follow.
Register for the webinar here.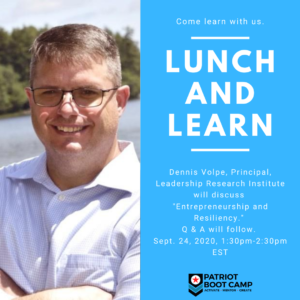 On Friday, 25 Sep, at 1pm ET, Harrison Schramm will be our first guest of the 2020-21 season of the New '96 Hour. While on active duty, Harrison (then, a helo pilot) entered the realm of Operations Research at NPS and has made it his full-time pursuit since retiring in 2016. What's Operations Research? I'm glad you asked, and…you'll have to tune in to learn more! Harrison will be sharing his insights on how to get people to believe your model, listen to you, and follow your recommendations.
Join us to hear Harrison talk on the subject of Persuasion: Bridging the Gap between Analysis and Policy by registering (ahead of time) here. Sure, you can stream the recording when it's over, but for Q&A, you've got to be *LIVE.* I know you've got questions, so we look forward to seeing you then!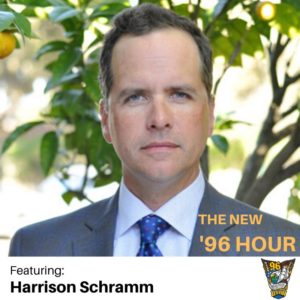 If you haven't seen Kim's latest publication, which ran online/in RealClear Policy on 26 August, please check it out here. Great article, Kim!
Executive summary: Most workers have never been faced with the prospect of re-training for entirely new roles and industries to remain economically relevant – and employed. However, there is a segment of our economy for whom re-skilling – and reinvention – is commonplace. In the military, lifelong learning is part of the mission. For the 80 percent of active-duty military retire or leave the military before full retirement eligibility, reinventing themselves to thrive in "second" or even "third" careers is a way of life.
Event: Mentorship in 2020: A Discussion with David Smith, PhD '87, sponsored by the USNA Alumni Greater DC Chapter
When: 27 Aug 2020 19:00, EDT
Where: Virtual (Link to be sent to registrants)
If you are interested in discussing mentorship, or signing up to be a mentor or mentee through this new chapter endeavor, don't miss this event!
---
Please join us in celebrating National Women's Equality Day with a timely discussion on the role of mentorship in 2020 – across genders, throughout organizations, and in the time of social distancing- with CAPT David Smith, USNA '87. 
This event will culminate in the launch of the USNA AA GWC mentorship program where alumni will have the opportunity to be both mentors and mentees. 
David Smith, PhD, is Associate Professor of Sociology in the National Security Affairs Department at the United States Naval War College. A former Navy pilot, Dr. Smith led diverse organizations of women and men culminating in command of a squadron in combat and flew more than 3,000 hours over 30 years including combat missions in Iraq and Afghanistan. As a sociologist trained in military sociology and social psychology, he focuses his research in gender, work, and family issues including bias in performance evaluations, retention of women, dual career families, military families, and women in the military. Dr. Smith is the author of numerous journal articles and 2 books in the area of gender in the workplace and inclusive mentoring relationships. These books include Good Guys: How Men Can Be Better Allies for Women in the Workplace (October 2020 with Brad Johnson) and Athena Rising: How and Why Men Should Mentor Women (September 2016 with Brad Johnson). 
Some of Dr. Smith's recent works on mentorship can be found below:
Social Distancing Doesn't Have to Disrupt Mentorship
What Men Can Do to Be Better Mentors and Sponsors to Women
If you know anyone looking for a career opportunity, please pass this along! I'm wondering if any of these jobs will get me free (or deeply discounted) cereal, Pop Tarts, Eggos, and Cheezits for life. Hmmm…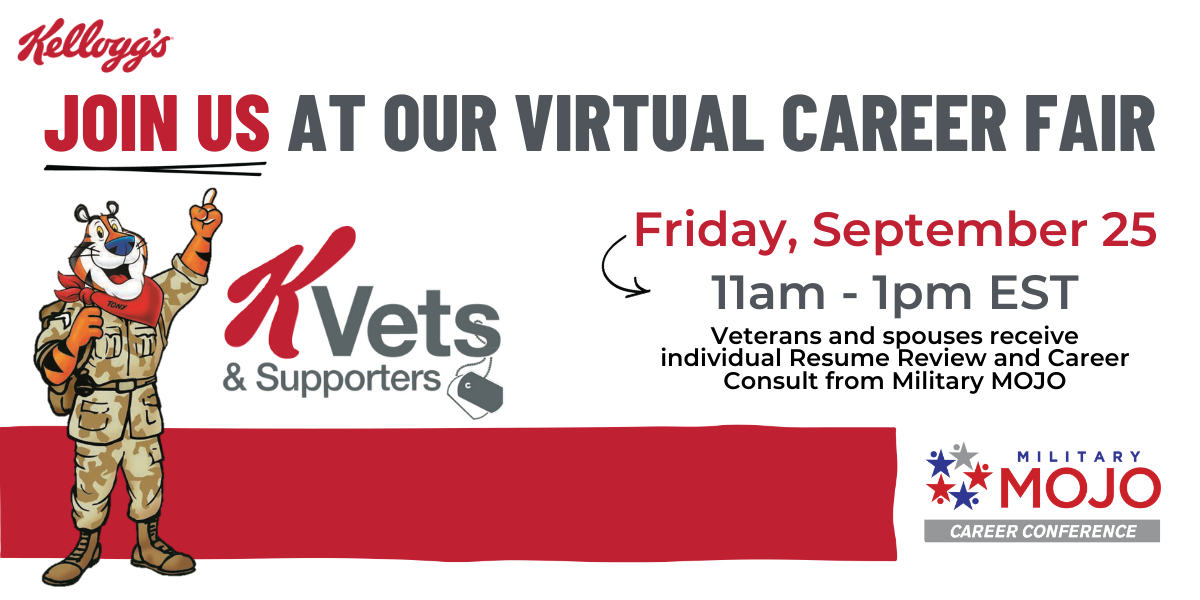 Kellogg's is recruiting for careers in Sales, Supply Chain, Information Technology, Finance and more! Speak directly with Hiring Managers and Recruiters seeking veterans for professional roles. Participate in a virtual Q&A session with our KVets team who have navigated careers at Kellogg's! Female attendees may participate in our Women Veterans Roundtable hosted by Morgan Dennis, USA (Information Technology Manager.) View List of gr-r-reat opportunities at Kellogg.
Senior Manager, Continuous Improvement (Cary, North Carolina)
Manufacturing Reliability Site Lead (Kansas City)
Global Real Estate Portfolio Manager (Battle Creek, MI)
Data Architect – Remote Virtual Location
Kellogg's looks forward to meeting you virtually on September 25th! Need more info? Please email niki.ramirez@kellogg.com