25th Reunion
BEAT ARMY!!!
Recent Posts
Post Categories
Most Used Tages
Search the 1996 Site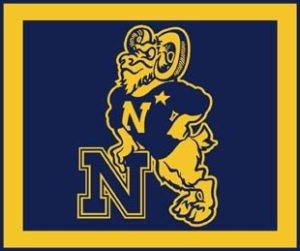 From Jenn: Hey classmates, I've been working on something for my business that I'd love your help with. After 15 years of coaching and training leaders for companies and agencies, I've finally launched an open-enrollment program that anyone can join. It's called Project Arete Leadership, and in the course of 6 months, my faculty, coaches, and I will be teaching leaders how to realize the full potential of their team. It will be a truly transformative experience. I'm offering full scholarships for up to three nonprofit leaders in the inaugural cohort that begins June 23rd. Applications for the scholarships are due on Monday, June 7th. Registration for the event ends June 9th (there are 14 spaces available still).
Here's the help I'd love from you:
If you know of a nonprofit leader who might be a good fit for the program, please forward this link to them.
If you're interested in sponsoring scholarships for nonprofit leaders, please check out this link, too. I'm committed to this work and am willing to fully fund them myself–and I'd also love the help of other committed leaders and organizations. And the more support we have, the more scholarships we can offer, the more good we can do!
https://www.awakenedleader.com/project-arete-scholarships
You can learn more about the program here: https://www.awakenedleader.com/project-arete-leadership
If you have questions, please get in touch: jenn@worldAWAKE.net
Thanks so much for your support–of me, of our fellow classmates, and of those who want to do good in the world.
If you have or know any 6th – 8th grade girls who would be interested in this event, please share with them!
The U.S. Naval Academy STEM Center for Education and Outreach is hosting a virtual Girls STEM Day Saturday, Oct. 17, from 10 a.m. to 12 p.m.  The event will take place live on their Facebook page and is aimed for 6th-8th graders who are interested in learning about how engineers and scientists make the world a better place for everyone using hands-on activities! 👩‍🔬📡⚙️🔬🩺 Keep an eye out for more information closer to the event!
(Original post: 30 September on official USNA Facebook page)
Key details: no registration required; event will be live streamed online. Guidelines, supply lists, downloadable templates, and link to live event can be found here.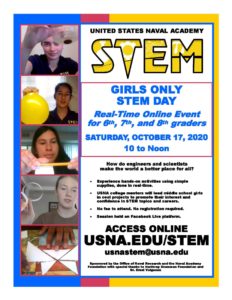 Event: Mentorship in 2020: A Discussion with David Smith, PhD '87, sponsored by the USNA Alumni Greater DC Chapter
When: 27 Aug 2020 19:00, EDT
Where: Virtual (Link to be sent to registrants)
If you are interested in discussing mentorship, or signing up to be a mentor or mentee through this new chapter endeavor, don't miss this event!
---
Please join us in celebrating National Women's Equality Day with a timely discussion on the role of mentorship in 2020 – across genders, throughout organizations, and in the time of social distancing- with CAPT David Smith, USNA '87. 
This event will culminate in the launch of the USNA AA GWC mentorship program where alumni will have the opportunity to be both mentors and mentees. 
David Smith, PhD, is Associate Professor of Sociology in the National Security Affairs Department at the United States Naval War College. A former Navy pilot, Dr. Smith led diverse organizations of women and men culminating in command of a squadron in combat and flew more than 3,000 hours over 30 years including combat missions in Iraq and Afghanistan. As a sociologist trained in military sociology and social psychology, he focuses his research in gender, work, and family issues including bias in performance evaluations, retention of women, dual career families, military families, and women in the military. Dr. Smith is the author of numerous journal articles and 2 books in the area of gender in the workplace and inclusive mentoring relationships. These books include Good Guys: How Men Can Be Better Allies for Women in the Workplace (October 2020 with Brad Johnson) and Athena Rising: How and Why Men Should Mentor Women (September 2016 with Brad Johnson). 
Some of Dr. Smith's recent works on mentorship can be found below:
Social Distancing Doesn't Have to Disrupt Mentorship
What Men Can Do to Be Better Mentors and Sponsors to Women