25th Reunion
BEAT ARMY!!!
Recent Posts
Post Categories
Most Used Tages
Search the 1996 Site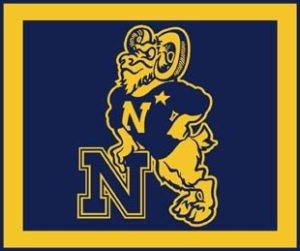 Time: 1:30pm-2:30pm EST
Late breaking – just saw this on the wire. Patriot Boot Camp will be hosting Dennis Volpe this afternoon for a live webinar. Please join Patriot Boot Camp and Dennis Volpe, Principal, Leadership Research Institute as we discuss "Entrepreneurship and Resiliency." Q & A will follow.
Register for the webinar here.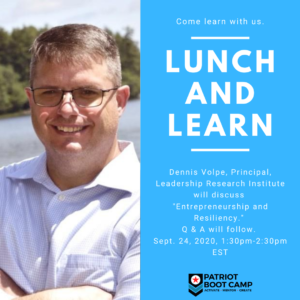 If you haven't seen Kim's latest publication, which ran online/in RealClear Policy on 26 August, please check it out here. Great article, Kim!
Executive summary: Most workers have never been faced with the prospect of re-training for entirely new roles and industries to remain economically relevant – and employed. However, there is a segment of our economy for whom re-skilling – and reinvention – is commonplace. In the military, lifelong learning is part of the mission. For the 80 percent of active-duty military retire or leave the military before full retirement eligibility, reinventing themselves to thrive in "second" or even "third" careers is a way of life.
Event: Mentorship in 2020: A Discussion with David Smith, PhD '87, sponsored by the USNA Alumni Greater DC Chapter
When: 27 Aug 2020 19:00, EDT
Where: Virtual (Link to be sent to registrants)
If you are interested in discussing mentorship, or signing up to be a mentor or mentee through this new chapter endeavor, don't miss this event!
---
Please join us in celebrating National Women's Equality Day with a timely discussion on the role of mentorship in 2020 – across genders, throughout organizations, and in the time of social distancing- with CAPT David Smith, USNA '87. 
This event will culminate in the launch of the USNA AA GWC mentorship program where alumni will have the opportunity to be both mentors and mentees. 
David Smith, PhD, is Associate Professor of Sociology in the National Security Affairs Department at the United States Naval War College. A former Navy pilot, Dr. Smith led diverse organizations of women and men culminating in command of a squadron in combat and flew more than 3,000 hours over 30 years including combat missions in Iraq and Afghanistan. As a sociologist trained in military sociology and social psychology, he focuses his research in gender, work, and family issues including bias in performance evaluations, retention of women, dual career families, military families, and women in the military. Dr. Smith is the author of numerous journal articles and 2 books in the area of gender in the workplace and inclusive mentoring relationships. These books include Good Guys: How Men Can Be Better Allies for Women in the Workplace (October 2020 with Brad Johnson) and Athena Rising: How and Why Men Should Mentor Women (September 2016 with Brad Johnson). 
Some of Dr. Smith's recent works on mentorship can be found below:
Social Distancing Doesn't Have to Disrupt Mentorship
What Men Can Do to Be Better Mentors and Sponsors to Women
USNA GWC Virtual Annual Meeting & Election Kickoff: 11 June 2020 1900-2000
The annual meeting hosted by the Greater Washington Chapter (GWC) of USNA Alumni is being held online this year, and will feature addresses by both the Superintendent (VADM Sean Buck '83) and the Naval Academy Athletic Director (Mr. Chet Gladchuck). VADM Buck will speak to the group about what is being done to reinforce Diversity and Inclusion at USNA, and Mr. Gladchuck will talk about the near term plans for Navy Athletics.
You do not have to be a member of the GWC to attend the event, which will be streamed live via Microsoft Teams. Registration is free, but required. If you're interested in hearing what the Sup and the AD have to say, please join! I am not aware that there will be any recording posted later.
The GWC President requests that you please begin logging in 15 minutes prior to the event at 1845 on June 11 EDT so that they start promptly at 1900. "Time, Tide, and Formation wait for no one!"
Entire letter sent via email to USNA-GWC listserve: USNA Greater Washington Chapter Virtual Annual Meeting & Election Kickoff.
Virtual Networking All Call, Thursday (6/11), sponsored by Re4ormed LLC:
Veteran and mililitary-spouse entrepreneurs and small-business owners, if you'd like to pitch your business and find help addressing your challenges, or you just want to provide mutual support to our tribe, please join this month's Annapolis All Call sponsored by Re4ormed (CEO and founder – Mark Mhley). The event will be held virtually this Thursday (6/11/2020) at 5pm EDT. Whether you're in the DC/Baltimore/Annapolis area or beyond, please join the Annapolis All Call for some powerful virtual-networking and mutual-support.
Virtual meeting Zoom link here.
And don't forget this transition tip – LinkedIn offers a 1 year free Premium subscription for veterans and their family caregivers, which includes a number of powerful tools to help you take your next step. LinkedIn Veteran Subscription
From Jenn Campbell – on Friday (5/23), Heidi Fearon Barker will be on the New '96 Hour, and you seriously don't want to miss it! When she and I connected a few months ago, our conversation left me buzzing with inspiration and excitement. She has made bold transitions herself, and now she specializes in supporting people through their own transitions by applying a powerful blend of practices, including acupuncture, meditation, yoga, visualization, and more. Her wisdom is applicable to any kind of transition–whether out of uniform, out of injury, out of a relationship–so, no matter the chapter of life you're in, you'll want to tune in.
Join us on *Friday at 1pm ET* by registering here (and remember you need to register ahead of time).
Sure, you can stream the recording when it's over, but for Q&A, you've got to be *LIVE.* I know you've got questions, so we look forward to seeing you then!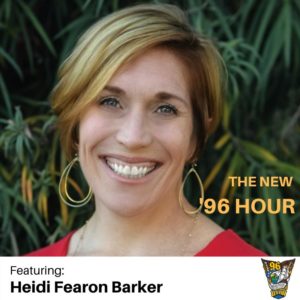 Global-X Challenge key date reminder: the deadline for ONR Global-X Challenge white paper submissions is fast approaching! White papers must be submitted by 11:59 p.m. EDT on May 25, 2020. Read the official guidelines before submitting, and check out ONR Global on the web for more details.
Global-X is a nine-month international science challenge that will seek revolutionary research through active worldwide cooperation to solve present and future U.S. Navy and Marine Corps needs. If you missed the kickoff webinar, which was hosted by our own Capt. Matt Farr on 23 April, the video is available on YouTube. Interested participants can also register on the Global-X Slack channel to begin connecting with fellow researchers. Feel free to share!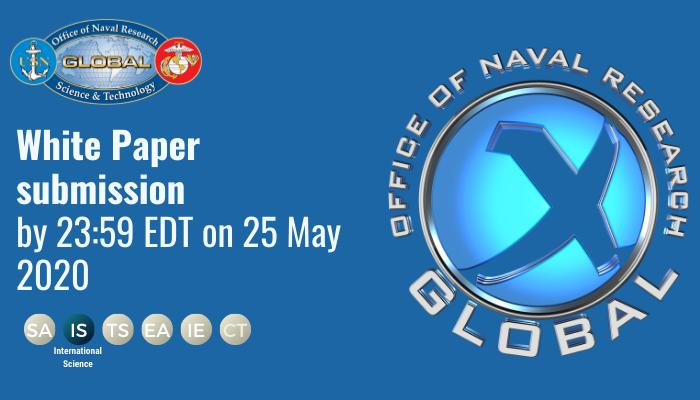 The Alumni Association announced today that DC SACC (Washington DC, June 2020) has gone virtual and will be held online from 10-12 June 2020 in lieu of the in-person gathering slated for Crystal City. I suspected this would happen ever since I read the recent Jacksonville event had been held online (Jacksonville, 16-17 April). The SACC team is still working on a number of details about the event, but here is what has been released so far:
Two days of webinars
Connect virtually with recruiters from industry-leading employers
Connect with representatives from advanced education institutions
Learn more about Blue and Gold Officer opportunities
Registration is open, both for candidates and companies looking to recruit. The list of companies participating has not been posted yet. You can visit the website to see what has been posted so far (they are also active on FB and Instagram). Stand by for further details when they are finalized. In the meantime, you can probably guess at least some of the details by looking at the notes for the Jacksonville conference.
A week ago, Kitch Kennedy posted on the Class of 1996 Facebook page, asking any classmates who own small businesses to post a link in the comments so that he could support it in some way – either by purchasing or sharing to a wider audience. A couple of days later, I saw William Marks' post (also on the class FB page) about Facebook-sponsored grants for small businesses – then read about efforts by the Alumni Association to champion Almuni ventures in both Nagel's 24 April update to the class and the April 2020 edition of WaveTops (released 29 April). I decided to try to synthesize all of this information one place. Please reach out if you have additional information you'd like to share, and I will update this post! I will also work on a static page here for all of this, so please send me ideas or feedback.
Roundup from Kitch's post:
I'm adding Brian Faquet's Prohibition Distillery (Roscoe, NY) to this list, as well. as anything else I can dig out of people's FB posts and from LinkedIn (below). Please send me others!
Carter Richardson – East Passage Boatwrights (Bristol, RI)
Mark Mhley – Re4ormed, LLC (Annapolis, MD)
Sal Convento – San Diego & Chula Vista Martial Arts & Fitness (San Diego, CA)
Julie Kubal – Julie Kubal Photography (Washington, DC)
Jesse Lankford's son, Carter Lankford – Coaching with Carter Online Math Tutoring (San Diego, CA)
Tom Thoma – Owner, CertaPro Painters (Chantilly, VA)
Jaesen Yerger – Founder/CEO Cajun Custom Rods LLC (Jacksonville, FL)
From William Marks – Facebook is offering MILLIONS of dollars in cash grants and ad credits for people who own small businesses in 27 different cities around the nation. More information here and you can PM William about it as well (ans see his 23 April FB post).
As you probably read in Nagel's recent update to the class, the Alumni Association has launched a business directory to help alumni support and showcase alumni-owned businesses by class, location, or industry. If you are a small business owner, consider registering your business to help them build the resource – and help get more folks interested in your product or service.
Email sent via Classmail 4/24/20
Greeting '96 Classmates.
I'm writing today to summarize today's Council of Class Presidents (COCP) meeting.  It was held on-line for the first time ever.  And if you can imagine what it might like to have ~80 people on a VTC with Presidents 70-80-90 years old…it was probably worse.  But also pretty comical at the same time.  We had briefs from various people to include the Commandant of Midshipman.
USNA STATUS DURING COVID
USNA opted to allow Midn to reside elsewhere.  That was in some part due to the 2 x suicides of Firsties at USAF Academy.  They were in some part attributed to their very strict isolation policies (they have since been relaxed).
Most events are postponed or cancelled.  Meetings, Commissioning Week, Dedications, Ceremonies, All Academy Challenge, etc…
They have NOT determined how I-Day or plebe summer will be run yet.  They are evaluating numerous options.
Midn are continuing their education via on-line methods.  They are also doing virtual clubs and physical fitness challenges.
They gave restrictees the option to stay at USNA to work off their time or postpone their time and stay somewhere else.  There are about 40-50 Midn currently in Bancroft Hall.  A handful of Midn have been ordered to return to USNA due to liberty incidents.  The group in Bancroft is basically the work detail to keep basic functions and maintenance going.
They have stepped up rodent / pest control while Bancroft and King Hall are virtually empty.
Many have asked why USNA is doing things differently than USMA and USAF Academies for graduation.  The Dant said "each Academy has their own set of facts, assumptions, and variables" and therefore they may or may not follow suit with other Service Academies.
They have NOT decided exactly how the virtual graduation will be held on 22 May.  They are capturing lessons learned from USAF graduation.
For now, the Navy / ND game is still on for Ireland but they are evaluating options.
They are still trying to figure out next year's plebe appointments with potential candidates that have not taken the ACT / SAT.
The Class of 2020

Of course everyone wants to "help" the Class of 2020 with their graduation.  Based on USAFA graduation, they ask that classes not get out in front of USNA activities.  Apparently, there was a lot of confusion and stepping on each other. As a class we do not have anything planned.
They are also asking for any digital media (videos, pictures, memes, etc…).  If you want to tag any, use #usna2020.
Ultimately, the message from the Dant regarding graduation was to the effect of "it sucks but we are in the war fighting business and we are going to miss a lot of things in our career.  Get used to it."
Orders to their first duty stations start getting cut next week.
NEW ALUMNI CENTER
The Mail Center and HAZMIN building / move has begun.  This is a predecessor to the new Center construction.
~$22M building.  ECD July 2022.
Will have 2 event decks and can host a 240-person event.
They are still negotiating with Annapolis in parking and gate entryways.
SERVICE ACADEMY CAREER CONFERENCE (SACC)
They just hosted the first of the series online (Jacksonville) and was a success.
Washington DC SACC is still planned June 11-12
San Diego SACC is planned August 20-21
Dallas SACC is planned October 29-30
CHAPEL DOME
Most of the copper from the dome has been removed.  They have started making items for sale through a contracted company. (See https://usnachapeldome.com/)  They will continue making items until the copper is gone.  We could do a group-buy of custom '96 copper challenge coins with a price point $120-125 per coin.  If anyone thinks they can get a group buy together and would like to run that, let me know.
NEW ALUMNI-OWNED BUSINESS PAGE
If you would like to register your alumni-owned business with the Naval Academy Alumni Association & Foundation, you can go to their new page located here https://www.usna.com/alumni-businesses. They are making an effort to help others find and connect to alumni-owned businesses.
25 YEAR REUNION
Don't forgot to mark your calendars for our 25 Year Reunion 01-03 Oct 2021.  Expect everything to go "live" (Westin room blocks, registration, etc…) ~ Feb 2021.
CLASS GIFT
Although times might be tough right now, don't forget that you can still donate to the Class Gift.  If you are on a monthly auto-donation, you can always increase your value just a little…maybe an extra $5/month.
FOOTBALL SEASON
As of now, it is still planned. Let me know if you have season tickets and want your parking spot at our tailgate.
If you'd like to help out with the operating costs, feel free to contact Nikki Battaglia.  You can send her donations via Zelle (use her phone number (904) 535-5810).  We also accept paypal at usna1996tailgater@gmail.  Contact her for other methods of payment.
As a reminder, the tailgate is a completely separate account and self-funded through donations and we use no class funds to pay for anything.
With that, I'm signing off. Please let me know if you have any questions or concerns and I'll do my best to find an answer.
Nagel Sullivan
301-904-1526