25th Reunion
BEAT ARMY!!!
Recent Posts
Post Categories
Most Used Tages
Search the 1996 Site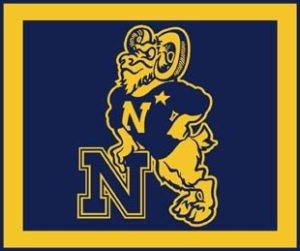 If you have or know any 6th – 8th grade girls who would be interested in this event, please share with them!
The U.S. Naval Academy STEM Center for Education and Outreach is hosting a virtual Girls STEM Day Saturday, Oct. 17, from 10 a.m. to 12 p.m.  The event will take place live on their Facebook page and is aimed for 6th-8th graders who are interested in learning about how engineers and scientists make the world a better place for everyone using hands-on activities! 👩‍🔬📡⚙️🔬🩺 Keep an eye out for more information closer to the event!
(Original post: 30 September on official USNA Facebook page)
Key details: no registration required; event will be live streamed online. Guidelines, supply lists, downloadable templates, and link to live event can be found here.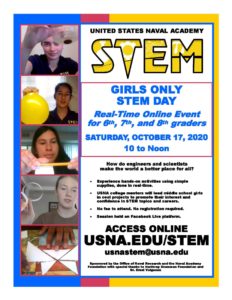 Check out Harrison's most recent publication, which advocates the creation of a Digital Service Academy. At a time when much of the DoD struggles to adequately and appropriately implement Artificial Intelligence (AI), this is a timely article addressing a critical knowledge and capability shortfall. It was recently published in War on the Rocks. Whom from the great Class of 1996 will be first in line for a second Plebe Year at USDSA? Great work, Harrison!
MAKING A U.S. DIGITAL SERVICE ACADEMY WORK – Schramm, Lyons (10 Sep)
Global-X Challenge key date reminder: the deadline for ONR Global-X Challenge white paper submissions is fast approaching! White papers must be submitted by 11:59 p.m. EDT on May 25, 2020. Read the official guidelines before submitting, and check out ONR Global on the web for more details.
Global-X is a nine-month international science challenge that will seek revolutionary research through active worldwide cooperation to solve present and future U.S. Navy and Marine Corps needs. If you missed the kickoff webinar, which was hosted by our own Capt. Matt Farr on 23 April, the video is available on YouTube. Interested participants can also register on the Global-X Slack channel to begin connecting with fellow researchers. Feel free to share!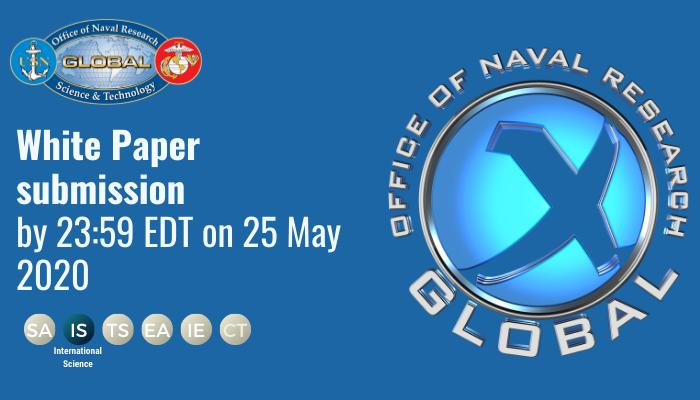 Calling all global science & technology professionals!
ONR Global-X Challenge seeks to award grants of up to $750,000 to address the following three capability challenge statements: 1. Tailored Material and Manufacturing; 2. Multifunctional Maritime Films for Persistent and Survivable Platforms and Warfighters; and 3. Object Detection and Identification in any Medium. This Global-X Challenge provides an opportunity for international researchers to collaborate, generate revolutionary ideas, and demonstrate how these ideas will succeed.
I did not get this posted in time for yesterday's kick off webinar, which was hosted by our own Matt Farr (XO, ONR Global) – but this is all just getting started. Details for the Global-X Challenge, including key upcoming dates, can be found in the Special Notice, posted on the ONR website and also at the grants.gov website (Grant N00014-20-S-SN14). You can also contact Matt directly to learn more (email: mattfarr96@7ahoo.com) – or find him via Facebook or LinkedIn.