25th Reunion
BEAT ARMY!!!
Recent Posts
Post Categories
Most Used Tages
Search the 1996 Site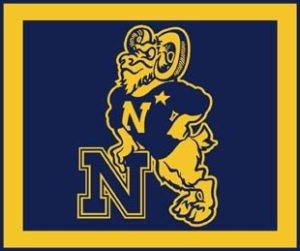 Email sent via Classmail 7/1/2021
Classmates, the USNA Athletic Department is asking me to submit our '96 Athletic Legends (see memo for details). Looking for 5-8 submissions. I need a name and a write-up (don't worry too much about the photo).  I'll throw a dart at 15 July for submissions. Don't be shy….Submit that friend / roommate of yours!!
Nagel Sullivan
GO NAVY!
When: 1900 (EDT) Monday, 07 Sep 2020
Where: Virtual (hosted on Facebook Live by the USNA Alumni Association and Foundation)
Link: https://www.facebook.com/USNAAlumni/
From the USNA Alumni Association: Calling All Navy Fans…Navy Football is back! Are you ready for the season opener on Labor Day? The Midshipmen will face BYU for this historic game in Annapolis at Navy-Marine Corps Memorial Stadium. We wish we could welcome you all in person but are excited to invite you to tune into our FB live event on our page with remarks from Byron Marchant '78, CEO of the USNA Alumni Association and Foundation, Superintendent VADM Sean Buck '83, USN, and Navy Athletic Director Chet Gladchuk.
Tune in to the event on the Alumni Association and Foundations's Facebook Monday Night at 7 p.m. EDT . #GoNavy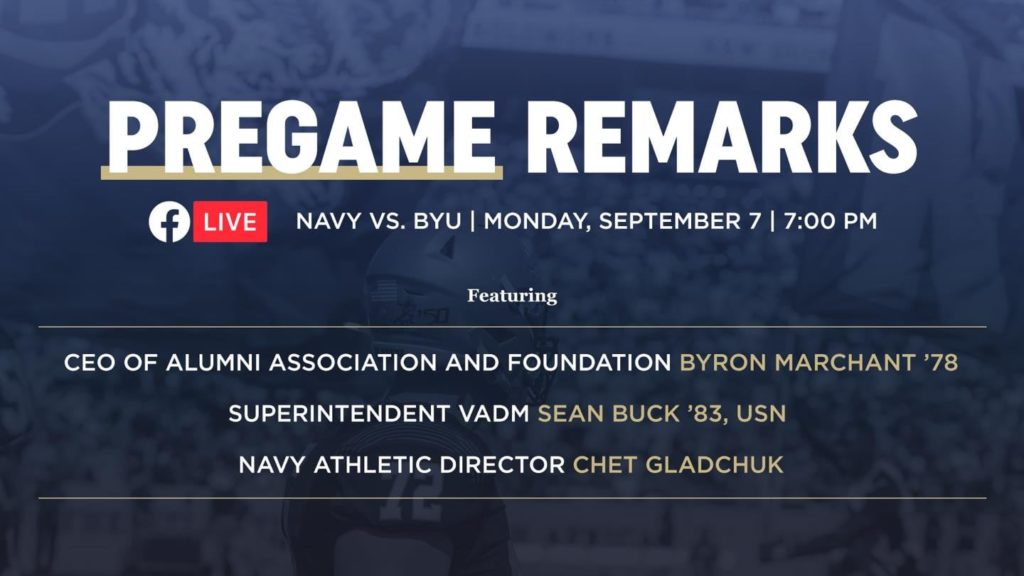 Just a reminder to tune in and watch Navy kick off the 2020 season with a matchup against BYU. Although no fans – or even Midshipmen – will be at Navy-Marine Corps Memorial Stadium, the game will be televised on ESPN starting at 8pm on Monday (07 Sep 2020). This game was ranked No. 1 matchup for the opening week of college football (USA TODAY), so we're already winning. Hope all have a safe and fun Labor Day weekend, and don't forget your Shipmate submissions – photos in game day gear wanted!
Read the Naval Academy Athletic Association Press Release here.
ESPN game summary here and commentary by ESPN's Rece Davis here.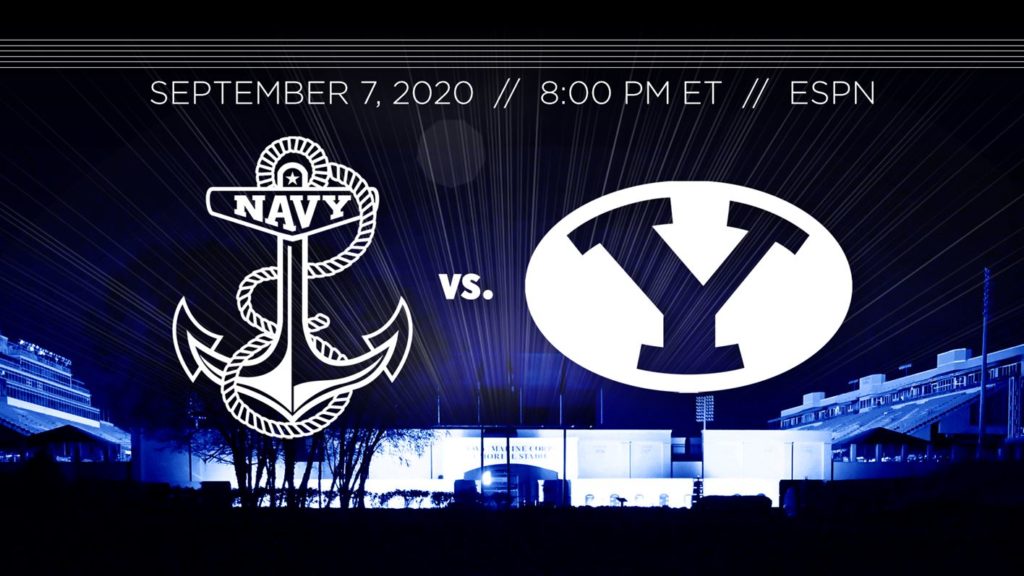 Changes to the football schedule were announced on 6 Aug – most notably, there will be no battle with Notre Dame until 2021. Initially moved from 29 Aug in Dublin to Labor Day Weekend in Annapolis due to COVID-19 related travel restrictions, the game has been again impacted by a recent conference realignment. Notre Dame, which has given up its independent status and joined the Atlantic Coast Conference (ACC), now faces restrictions in playing non-conference opponents. The series will resume in 2021.
Added to the Navy schedule is a new home game against BYU, which will be played at 8 pm on Labor Day (Monday, 7 Sep) and broadcast live on ESPN in primetime. This game displaces the 12 Sep contest against Lafayette, which has been removed from the schedule. There are currently still five home games. No word yet on attendance or tailgating allowances, either for the nighttime home opener or for the entire season. Read the press release here.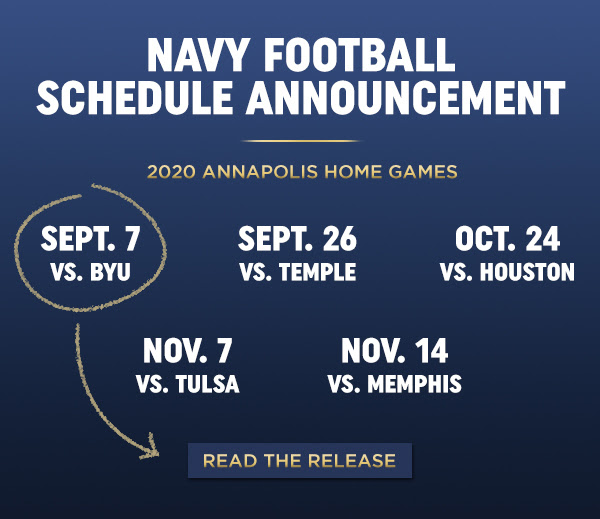 USNA GWC Virtual Annual Meeting & Election Kickoff: 11 June 2020 1900-2000
The annual meeting hosted by the Greater Washington Chapter (GWC) of USNA Alumni is being held online this year, and will feature addresses by both the Superintendent (VADM Sean Buck '83) and the Naval Academy Athletic Director (Mr. Chet Gladchuck). VADM Buck will speak to the group about what is being done to reinforce Diversity and Inclusion at USNA, and Mr. Gladchuck will talk about the near term plans for Navy Athletics.
You do not have to be a member of the GWC to attend the event, which will be streamed live via Microsoft Teams. Registration is free, but required. If you're interested in hearing what the Sup and the AD have to say, please join! I am not aware that there will be any recording posted later.
The GWC President requests that you please begin logging in 15 minutes prior to the event at 1845 on June 11 EDT so that they start promptly at 1900. "Time, Tide, and Formation wait for no one!"
Entire letter sent via email to USNA-GWC listserve: USNA Greater Washington Chapter Virtual Annual Meeting & Election Kickoff.