BEAT ARMY!!!
Recent Posts
Post Categories
Most Used Tages
Search the 1996 Site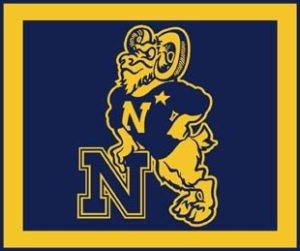 Hey classmates! T-5 days until the first Navy home game. Hope to see you all there. To get things rolling this year we're asking for donations to keep the tailgater up and running. We will have the kitty at the game, but if you don't want to carry that pesky thing called cash please feel free to PayPal the '96 account (usna1996tailgater@gmail.com). Or if you're hip and with it Zelle the money to me (904-535-5810) and I recommend $96!!! Can't wait to see everyone! Beat Army!!! –Nikki Battaglia
Get ready for the 2019 Navy football season! Single game tickets, season tickets, and Army-Navy tickets are all on sale through NAAA, which means tailgating season is finally something more than a blip on our radar. Remember, if you order a parking pass one of the options is to park alongside the tailgating tent – just be sure to to include our location (Spot 12) when you order your pass. GO NAVY, BEAT ARMY!
SIR, YOU NOW HAVE 5 DAYS UNTIL NAVY BEATS ARMY IN FOOTBALL, SIR!!! In lieu of an outdoor tailgater, we are having our annual class gathering for brunch the morning of the Army-Navy game in Philadelphia. If you're in town for the game, come join your classmates for a no-host social (i.e., everyone covers themselves) at Tir Na Nog, which is centrally located to many hotels and public transportation near City Hall (see map).
For numerous reasons, hosting a tailgate in Philly is just too difficult and we like to meet up somewhere warm. Everyone can order what they want (see menu), it is kid friendly, and you can come and go as you please. Tir Na Nog is located on Arch Street in Center City, right adjacent to both the SEPTA and the subway lines, so we are just a short walk from the express train to the game. It isn't required, but if you RSVP to Nagel Sullivan with how many will be your group, he can refine the size of our reservation.
BEAT ARMY!!!
Email sent via Classmail 11/12/18
Greetings classmates,
I'm emailing out our annual update this year (last year I tried the Facebook video feature but most didn't take advantage of it so back to email). I will continue to use Classmail for the more "official" announcements to reach all of those not on Facebook. Remember that we also have a website (this one right here!) that Cara keeps up date date and has done a LOT of work to get up and running.
SAD NEWS
I hate to start off with unfortunate news, but this week we lost our classmate Jeff Dixon. Funeral service/visitation will be Thursday 1:00-4:00 in Westminster, MD. Please keep his family in your thoughts. (Link for details)
CLASS GIFT
For some time, we have been talking about our 30th Reunion Class Gift and our effort to raise $600,000 is support of USNA. We have decided to lead the way with a new pilot for raising money for Class Gifts. Rather than rely on a few large donations, we want to push for record levels of smaller donations and much larger participation rates than is the norm. To that end, please consider making a minimum pledge of $30 a month for 96 months ($2,880 total over 8 years).
Our project consists of Conservation of the 1st/2nd Class Benches (see previous post for photos), Project Based Learning, Athletic Excellence, and the Naval Academy Fund. It does not seem unreasonable that we could get the 208 classmates we need to reach our $600K goal.  In fact, we would love to blow past that participation rate. Please spread the word and reach out to your Class Officers or Company Reps with any questions.
We had hope to get this drive up and running for on-line donations, but USNA Foundation issues with their software provider is delaying progress. Please excuse our 20th century methods and please donate the old-fashioned way to help us reach our pledge goal before the Army-Navy Game! Just email,scan, fax (seriously? what is a fax?), or call in your pledges. Details are on the downloadable pledge form: Class of 1996 Pledge Form $30 for 96 months
POC is Brian Reardon (Brian.reardon@1996.usna.com)
Last note –  to those that give to other priorities (Rugby, Crew, D&B, Cyber, etc.) please consider supporting our Class Gift in addition to your other annual donations. To those that plan to give more than $2,880 over the next 8 years, feel free to up your $30 pledge, make larger annual gifts, or supplement your current giving by adding a pledge to our Class Gift.
25TH REUNION
The planning for our 25th Reunion is well underway. The Committee has chosen Air Force weekend, 01-03 October 2021, as the tentative dates for our event. This choice allows the group to move forward with planning and vendor negotiations. Expect the dates to be finalized when the football schedule is published in Winter 2021. Please feel free to contact me directly if you want to contribute or help with the planning.
POC is Thomas Leahy (leahyt@gmail.com)
COUNCIL OF CLASS PRESIDENTS (COCP)
This year, Cara Albright attended the COCP on 8 Nov. Although this was a very abbreviated meeting, there were a few things that she wanted to pass along:
Suicide Prevention – This initiative began with '98 in response to their own personal situation (50% of class losses that are not operational are due to suicide) and will be discussed at great length at the spring '19 COCP.
A lot of discussion on reunions (lessons learned, costs, alternative venues, etc…).  All these things have been fed back to our Reunion Planning Committee.
COMPANY REPS
We are still looking for a few more volunteers to be their company rep. It's really not that much work but helps when we need to reach out to large groups.
Looking for reps for 7th, 26th, 29th, 32nd, and 34th still….
You get to help us track down your company mates and make sure they are getting all the information on class news.
FOOTBALL TAILGATE
Another awesome year is almost over (JUST HAVE TO BEAT ARMY!!). Each week is like a mini-reunion and we often get people that are on work travel for the week to stay an extra night to come to the game on Saturday.
The donations in the tailgate kitty pay for all of the sustainment (~$3000 a year). This year, all of the prices went up pretty significantly but we are still about breaking even. All the funds we receive to the paypal account help to pay for any of the larger upgrades (e.g., eventually we will need a new trailer, etc). If you feel like throwing a few dollars that way to help make our spot one of the most envied tailgates, please send them to paypal at USNA1996Tailgater@gmail.com
POC is Nikki Battaglia (n.battaglia96@gmail.com)
There may be a few 96 jerseys (link here) left if you didn't get a chance to get your personalized one!
ARMY/NAVY GAME
As usual, many of us will hit the town Friday night. Some of us will try to meet up so let me know if you want to join. Saturday, I'll do the standard no-host social at Tir na Nog in Philadelphia starting about 10:00. Every year they allow us to hog a section of the restaurant to stay warm, eat, and drink before the game. Hopefully the weather will be better than it was last year.
And with that, I'll wrap up this update.
Nagel Sullivan
Class President
BEAT ARMY!
Email sent via Classmail 7/27/18
Classmates,
This was posted on Facebook but we wanted to reach all of you that aren't on there.
Nikki Battaglia set up a deal with a company to purchase personalized Navy jerseys for $130 (at-cost) and part of the proceeds will go to our class gift that we just established!  It's a win for everyone.
Just follow the link, order your jersey (I might suggest 96 as the number), and they will mail it to you directly.
https://www.onthefield.com/products/Custom-Navy-Midshipmen-Under-Armour-Football-Jersey-Imprinted-or-Hand-Stitched.html
Here is the link for the kids jerseys.
https://www.onthefield.com/products/Youth-Custom-Navy-Midshipmen-Football-Jersey-Imprinted-or-Hand-Stitched-By-Under-Armour.html
There is no deadline but we don't know how long they will keep it open for the deal.
If you know someone that isn't from our class, they could still buy one and put whatever other stupid number they want on it….and we get the $30 toward our class gift!
Believe it or not, August is right around the corner. So while you're dreaming of spring, start dreaming of tailgates! Tickets are on sale for previous season ticket holders, the official schedule is out and it's never too early to make plans to catch a game.
Priority deadline is 15 March for season ticket holders to maintain their previous seats. For details, see Navy Athletics.
If you haven't had season tickets in the past, tickets go on sale 29 March for Naval Academy Alumni Association Life Members, 11 April for USNA faculty, staff and alumni and 23 April for general public.
Don't forget Nagel is collecting coins for a new bar top to use under the class tailgate tent. Decals for the trailer are always welcome, too. Contact him for his mailing address. GO NAVY!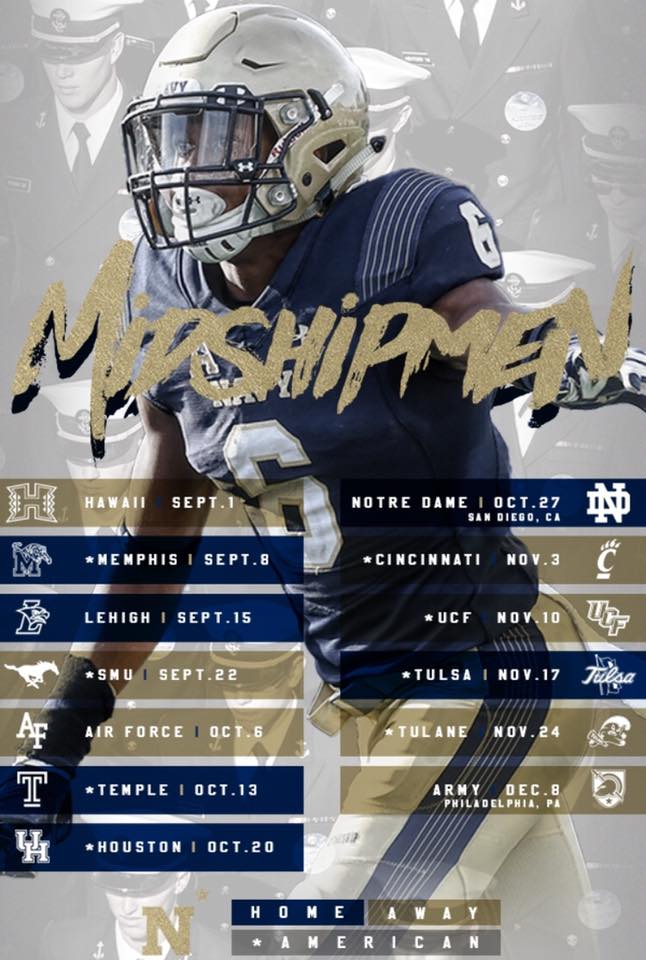 The Naval Academy Alumni Association recently put a package together for folks interested in travelling to San Diego to watch Navy as they take on the Fighting Irish. Details went out via email in late January, but if you missed it – or want more gouge – check out Anthony Travel online or call them at 1-800-736-6377.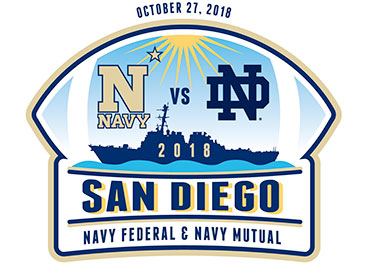 Let's fill these stands with Navy Blue & Gold! Go Navy, BEAT NOTRE DAME!
Sir, you now have 8 days and a wake up until Navy beats Army in football, sir!!! It's almost my favorite week of the year: Army Week! I'm sure you've all seen the HELM YEAH video circulating on social media, which is the latest in a series of installments we've enjoyed by ENS Rylan Tuohy and crew and I just can't watch it enough times.
Will Navy beat Army? HELM YEAH!
The T-shirts look wicked cool, and are still in stock as of today. I wasn't quick enough with my trigger finger on this year's Mules Can't Swim tees, so I made sure I got one of these. Check 'em out here: http://www.rylantuohy.com/store
There's a ton of events going on next Saturday, from our annual brunch at Tir Na Nog (approx. 0930) to the ESPN's College Gameday broadcast just outside the stadium and a '96 tailgater in Lot F. Bust out your cow bells, spirit buttons and goat hats and see you all out and about in Philadelphia! Stadium gates open at 1100, march-on of the Brigade is at 1215 and kickoff at 1500. Spirit gear is authorized… get pumped to BEAT ARMY! See you at the game, '96!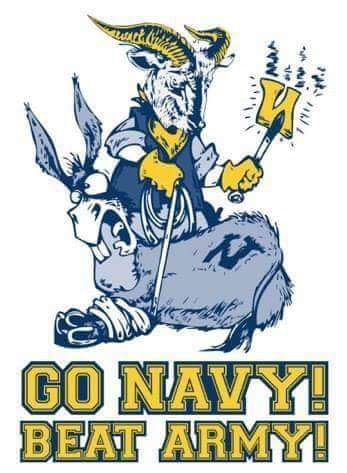 Sir, you now have 10 days and a wake up until Navy beats Army in football, sir!!! Hope to see lots of '96ers out and about in Philadelphia next Saturday for the 118th Army-Navy game. The wx forecast looks awesome, the uniforms look highly badass, and the Commander-in-Chief's Trophy is ripe for the picking! If you're looking for a place to meet up with classmates, Johnny Hartnett is hosting an on-site tailgater this year prior to the game. Look for his setup in Lot F of Lincoln Financial Field starting at 1000 (map below). You can RSVP to him via the Facebook event he created on our class FB page, and he'll also be tweeting gameday updates using #BeatArmy96 (or follow him @FlyNavyHartnett). BEAT ARMY!!!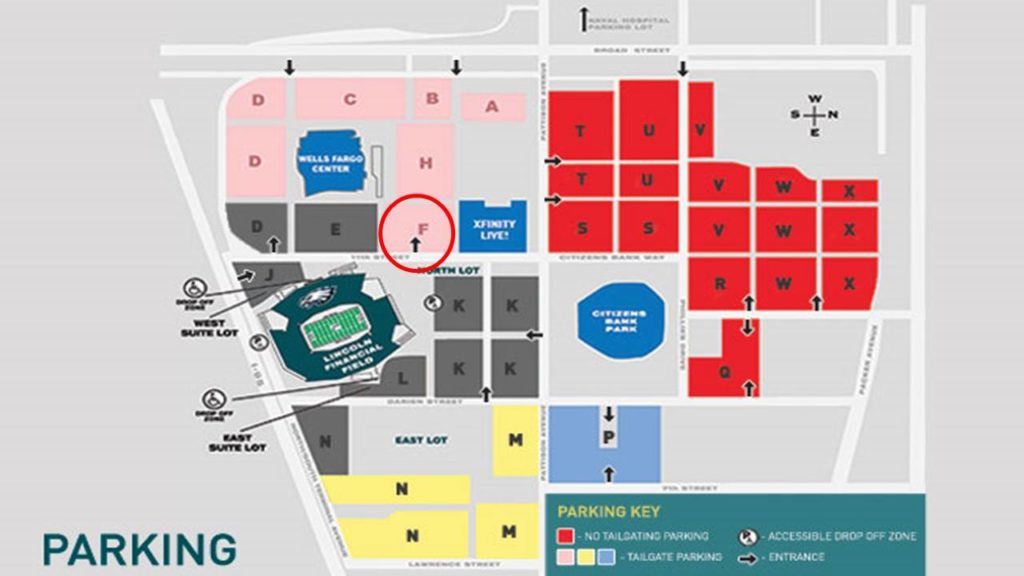 Join the Class of '96 under our tent for the last home game of the season as Navy takes on SMU to avenge a series of bitter losses. Come out and get loud in the stands so we can pave the road to the only win the matters – an early December one! Our tailgate tent is located in Spot 12, which is the second site in from Gate 2 along Farragut Road. Look for the class crest on our tent, our flags flying high and the best party going on! If you can bring food or drinks to share, that's great. If not, you can also chip into the kitty that helps cover the costs of tailgating. And if you don't have tickets, we'll be watching the game live via satellite under the tent. We have rope lights and heaters for after the sun goes down, so stop by before, during or after the game!
Kickoff is at 1530 on Saturday. Lots open at 0930 and stadium gates open at 1330. March-on is scheduled for 1510 with a flyover at 1520. Last home game of the season. Be sure to join us for some fun!