News, Events & More
In the News: Kim Mitchell and VVSD Celebrate New Clinic
Posted: 8/26/2019
Many of you are already familiar with the amazing work that Kim has been doing as the CEO of Veterans Village of San Diego. For anyone in the San Diego area, Kim recently shared an invite for an event on 05 September to celebrate the opening of the Steven A. Cohen Military Family Clinic. The Clinic will provide mild to moderate mental health services for Post 9/11 Veterans and their spouses and children, as well as to the dependents of Active Duty service members. Please see invite below to RSVP if you would like to attend!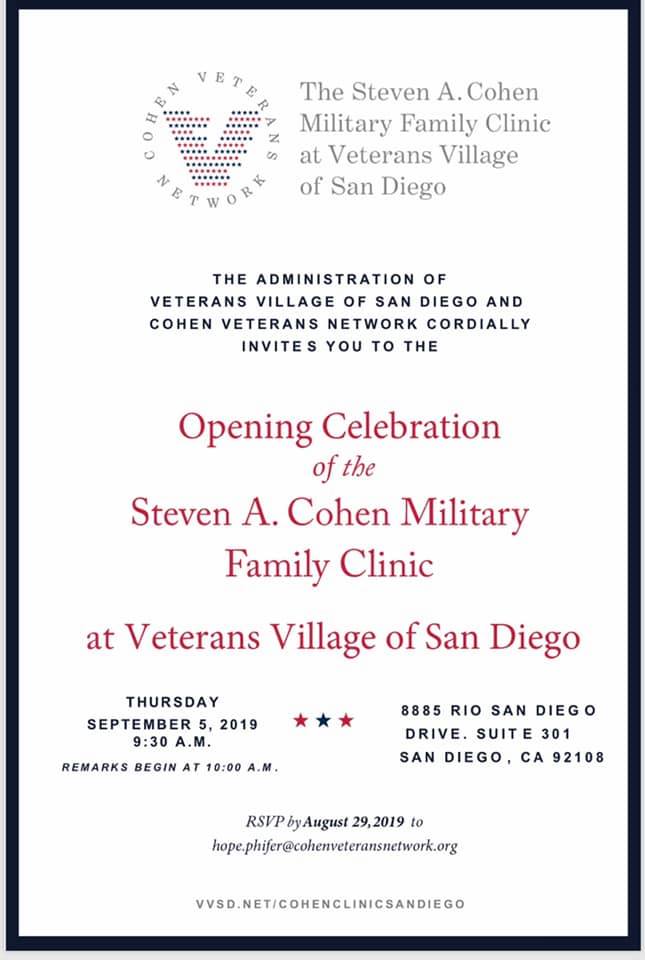 It's Navy Football Tailgating Season!
Hey classmates! T-5 days until the first Navy home game. Hope to see you all there. To get things rolling this year we're asking for donations to keep the tailgater up and running. We will have the kitty at the game, but if you don't want to carry that pesky thing called cash please feel free to PayPal the '96 account (usna1996tailgater@gmail.com). Or if you're hip and with it Zelle the money to me (904-535-5810) and I recommend $96!!! Can't wait to see everyone! Beat Army!!! –Nikki Battaglia
In the News: Ryan Stone and SmartSky Networks
Ryan Stone has been breaking barriers with his tech startup company, SmartSky Networks, based in North Carolina. Read his latest press release, learn about the history of this venture, and watch his featured interview with Jenn (Campbell) Stillings for the launch of The New '96 Hour.
In the News: Mark Mhley Leads F-14 Restoration on the Yard
Posted: 5/20/2019
Mark Mhley has been leading a team of volunteers in the restoration and repainting of the F-14 Tomcat that made it to the Yard last year and is now on display in Ellyson Park just inside Gate 8. With their work almost finished, the team was recently featured in the Capital Gazette photo gallery section. BZ, Mark!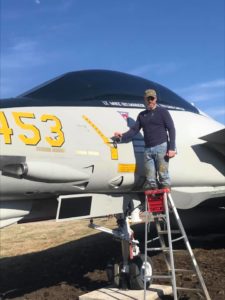 In the News: Todd Ferris Fuels Big Analytics in Chocolate World
Posted: 4/23/2019
Our classmate Todd Ferris was recently interviewed by the Wall Street Journal about his career and the analytics work he does for Hershey. Check out the article here (subscription required to view entire article):
Sweet Spot: Where Data Analysis Meets Chocolate (29 March 2019, WSJ)
BZ, Todd! Keeping '96 on the map… and probably the only one of us who's been photographed sitting under a portrait of Milton Hershey. Great work!
Class Project Update: Donations Just Got A Whole Lot Cooler…
Posted: 4/5/2019
…and easier, too! Check out our link below, which is hosted by Give Campus via the Naval Academy Foundation. It's even mobile friendly! It is set up for both recurring pledges and one-time donations, so feel free to share it with friends and family.
The great Class of 1996 is piloting this new fundraising platform for the Foundation, so please send any feedback you have to our Class Project Officer, Brian Reardon.
Spring Football Ticket Reminder
Get ready for the 2019 Navy football season! Single game tickets, season tickets, and Army-Navy tickets are all on sale through NAAA, which means tailgating season is finally something more than a blip on our radar. Remember, if you order a parking pass one of the options is to park alongside the tailgating tent – just be sure to to include our location (Spot 12) when you order your pass. GO NAVY, BEAT ARMY!
QOD: '96 Class Project Donations
Posted: 12/3/2018
Here's some additional gouge from Brian Reardon based on recent questions he has been fielding about donations and the class project.
Q: In addition to/instead of pledging $30 for 96 month to our Class Gift, I want to make a tax year 2018 donation to the US Naval Academy Foundation. How can I make sure the donation is allocated to the 1996 Class Gift?
A: If you are donating by phone, or if you get a call soliciting donations, make sure to tell the telemarketer that you want to give to the 1996 Gift. If filling out a form you received in the mail, include the 1996 Fund Numbers on your form. The 1996 Class Gift includes the below Fund Numbers:
50% – Class of 1996 Bench Conservation support (69960200/Y18CG1996)
27% – Class of 1996 Project Based Learning support (66960100/ Y18CG1996) 
8% –   Class of 1996 Athletic Excellence support (68960200/ Y18CG1996)
15% – Naval Academy Annual Fund (69000000/ Y18CG1996)   
As discussed previously, percentages can be changed to suit the desires of the donor. Please contact Brian if you have any questions!
Army-Navy Pre-Game Class of '96 Brunch in Philadelphia
SIR, YOU NOW HAVE 5 DAYS UNTIL NAVY BEATS ARMY IN FOOTBALL, SIR!!! In lieu of an outdoor tailgater, we are having our annual class gathering for brunch the morning of the Army-Navy game in Philadelphia. If you're in town for the game, come join your classmates for a no-host social (i.e., everyone covers themselves) at Tir Na Nog, which is centrally located to many hotels and public transportation near City Hall (see map).
For numerous reasons, hosting a tailgate in Philly is just too difficult and we like to meet up somewhere warm. Everyone can order what they want (see menu), it is kid friendly, and you can come and go as you please. Tir Na Nog is located on Arch Street in Center City, right adjacent to both the SEPTA and the subway lines, so we are just a short walk from the express train to the game. It isn't required, but if you RSVP to Nagel Sullivan with how many will be your group, he can refine the size of our reservation.
BEAT ARMY!!!
Giving Tuesday: Notes About Gifts and Pledges
Posted: 11/27/2018
Don't forget that donations are tax-deductable, and that corporate matching can really boost our giving potential. Here's a message from Brian Reardon, our Class Project Officer, about donations:
Class of '96,
Giving Tuesday is a great opportunity to make a tax-deductable gift or recurring pledge to the Class of 1996 Class Project!
Thanks to the classmates that have signed up for our $30 for 96 month pledge drive and to those that have directed their annual USNA Foundation donation to our Class Gift or have taken the extra step to set up corporate matching with their companies! You are putting us on the right path for our 30th reunion gift!
As we approach Army week, I hope that you will all participate at some level. Some are able to give more, and some less. I know of one classmate that has pledged $9.96 a month with a recurring pledge and another that is giving $96 a month. Both mean a great deal as we try to shatter participation rates and redefine how a class can participate in the growth of the Academy. Call the Foundation at (410) 295-4100, email melissa.nelson@usna.com, or use pledge form to set up a gift!
Beat Army!
Brian Reardon
brian.reardon@1996.usna.com
BEAT ARMY!!!
Recent Posts
Post Categories
Most Used Tages
Search the 1996 Site