News, Events & More
Regional Voting Begins 01 March: Make Your (Alumni) Voice Heard!
Posted: 2/28/2021
The USNA Alumni Association regional Board of Trustees elections open 01 March for the Mid-Atlantic and the Western regions and will run through 21 April. Whether you fall in either of these regions depends entirely on the address you have on file with the Alumni Association. We're reached the point in life when a good number of folks running for regional and area chapter board position are from our own class, adjacent classes, or Shipmates we crossed paths with in the Fleet – so be sure to read about who is running so that you are equipped to support those you know if you choose to do so!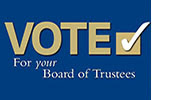 From the Alumni Association: If you live in the Mid-Atlantic or Western regions, be sure to vote in this year's Alumni Association Board of Trustees election. Your input strengthens our Association and our shared future. Those elected will join the board for the Spring 2021 meeting. Those living in the Mid-Atlantic and Western regions will receive a ballot via mail for the 2021 Board of Trustees election. Printed ballots will be sent to regular members by an external vendor, Yes Elections, with complete voting instructions for mail, phone and online options. You may opt out of a paper ballot and vote electronically should that be more convenient for you. Additional information on the election, including candidate biographies, is available here. Voting closes on 21 April 2021 by 5 p.m. EDT.
New '96 Hour: Tune in with Jenn Campbell and Eddie Buckles
Posted: 2/24/2021
You can't miss this event on Friday! Whether you want to transition into a new role or sector, or you have entertained entrepreneurial ideas, you'll want to join me as I interview Eddie Buckles Jr for the New '96 Hour. Eddie's track record is incredible. He has held a wide range of roles and has started companies across multiple sectors, and when we talk on February 26, he'll be sharing his insights on how his Naval Academy and active duty experience set him up for success.
The New '96 Hour with Eddie Buckles
Topic: Seize the Initiative: What a USNA Grad Can Contribute to the Corporate World
Date/Time: February 26 at 1pm ET
Register here. Remember that you've got to be *LIVE* with us to get your questions answered. See you then!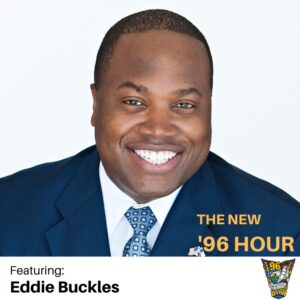 Early Bird Special: '96 Class Store Open through 7 March!
Posted: 2/1/2021
Email sent via Classmail 1/31/2021
The Class of 1996 Merchandise Store is open with '96 gear available for "Early Bird" orders now through 7 March. Fill those shopping carts, '96! In advance of our reunion later this year, the store has been open for a spring ordering period and will be open again this summer. Orders placed during the current period will ship on 5 April.
See yesterday's email blast for more details and contact our merch POC Tony Yanero with questions or suggestions. BZ, Tony! Thanks for keeping us all stocked.
In The News: CAPT Frank Okata on Improving Maritime Security
Posted: 1/23/2021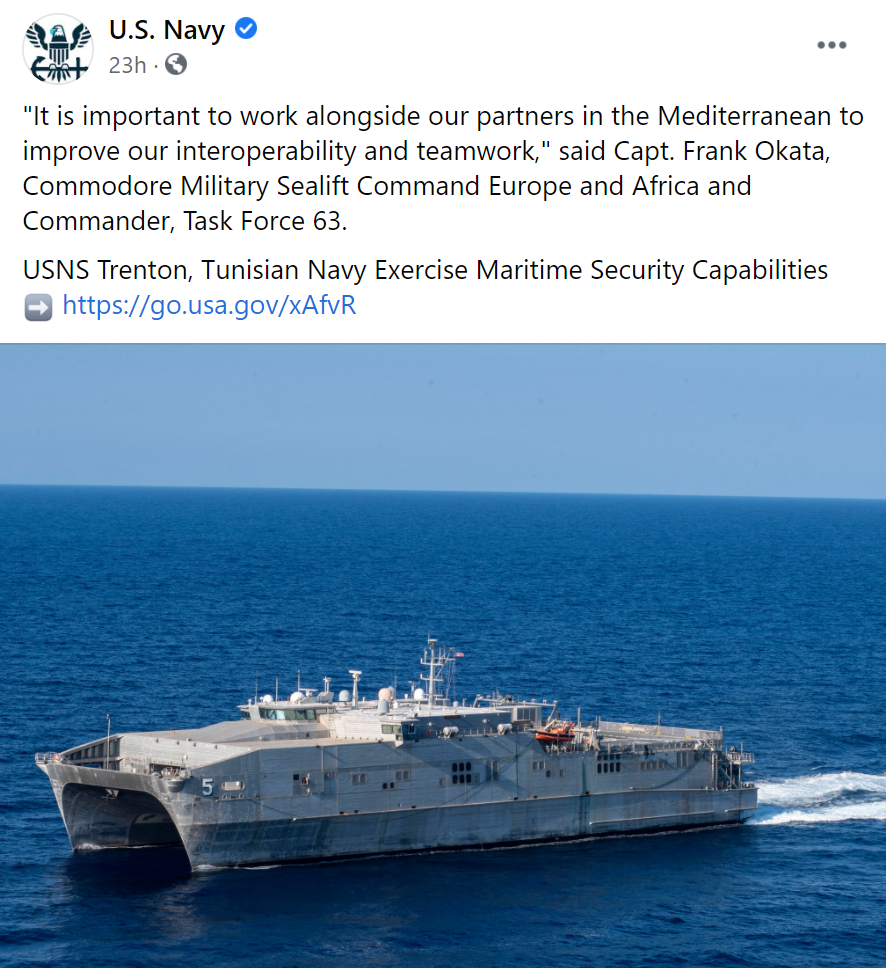 Our own CAPT Frank Okata, currently serving over in Italy as Military Sealift Command (MSC) Europe/Africa Commander, made the newswire following a recent four-day exercise with the Tunisian Navy in the Mediterranean. We caught this quote featured yesterday on official U.S. Navy social media. BZ, Frank! Enjoy the rest of your tour over there.
Read the full story here.
First Annual Fundraiser Honors CAPT Teresa Elders
Posted: 1/10/2021
Happy New Year, '96! Sharing some gouge on a 501(c)(3) established to honor CAPT Teresa Elders called the The Captain Teresa E. Elders Foundation (CTEEF). The first annual CTEEF Fundraiser started in December with a goal of raising $9,600 by 17 January (goal selected to honor of the upcoming Class of 1996 25th reunion). If you would like to donate, use the Facebook group or donate directly via the foundation website. This charity is a non-profit which distributed donations from friends and family to initiatives that Teresa supported. More details from the foundation:
Mission:
We are a not-for-profit established to further the goals and charities that Teresa supported during her life and to honor those who came before by inspiring those who come after. The foundation provides donations aimed at encouraging women from young to old in family, service, and faith, including programming support, scholarships, and angel donating to ensure others have the opportunities and services that Teresa herself benefited from and that she wanted to help others attain.
Programming:
In 2020, CTEEF grant recipients include:
Nine Girls Ask (for a cure for ovarian cancer)
National Ovarian Cancer Coalition
New Jersey Distinguished Young Women (formerly America's Junior Miss; Teresa was Junior Miss New Jersey in 1992)
First United Methodist Church Chula Vista Children's Ministry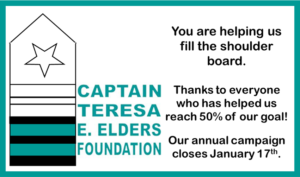 From the President: Date Change for 25th Class Reunion
Posted: 12/30/2020
Email sent via Classmail 12/24/2020
Classmates,
Due to the recently updated football schedule, the USAF game has moved from to Sep 11, 2021 to align with the 20-year Remembrance of the 9/11 attacks. At the moment, there is no scheduled game at USNA 3 Oct (a location and opponent are TBD).
We have considered several options and decided to move our 25-Year reunion to align with the USAF game 10-12 Sep 2021.
We all remember the heat from the 20th reunion and attempted to avoid the same risk this time. Our Friday venue will be much larger to accommodate the crowd and will investigate options to cool people down at the tailgate.
The attached Schedule of Events goes into more detail on the weekend. Standby for event registration to go live around Memorial Day. Based on feedback from last reunion, we will be doing á la carte registration fees.
Here is the link that will take you to our Westin room block.
** I will also remind everyone that given our current status, making any non-refundable deposits or bookings is done so at your own risk. While I hope we are back to normal by the fall, anything is possible.
Our reunion committee (led by Thomas Leahy) has scrambled this week and done a great job at rebooking and coordinating the switch. Thank you all very much.
GO NAVY! BEAT ARMY!
Nagel
(301)904-1526
nagel.sullivan@mac.com
In the News: Tim Kinsella on Resilience a Good End of Year Read
Posted: 12/18/2020
As many of you know, CAPT Tim Kinsella is the CO of NAS Pensacola and pens a monthly op-ed column in the Pensacola News Journal. In the December column, he offers a historical and seasonal perspective on our challenges today. As we prepare to close the door on 2020 and usher in a new year, may we learn from the hardships we have all endured this year and look inward as we project outward in 2021.
Resilience through immense hardship central to Pensacola's story | Capt. Tim Kinsella (article here)
December Remembrance: Wreaths Laid Locally Honor Our Fallen
Posted: 12/12/2020
Yesterday marked the annual wreath laying at USNA Cemetery and Columbarium. Despite COVID restrictions and a scaled back ceremony, a smaller than usual cadre of volunteers laid the many wreaths donated this year at gravesites and along the wall on Hospital Point. If you read the USNA official website describing history and memory at the USNA Cemetery you will read of the record of peacetime and wartime; the record of tears; and the record of accomplishments. Of parents and children. Of Medal of Honor recipients and midshipmen. But to me, the cemetery is much more than merely a record. It is the final resting place of so many links in the chain, including our own classmates that we hold so dear. Many thanks to Nikki Battaglia, who represented our class at the wreath laying this year and ensured wreaths were laid for Autumn, Robin, and Terri – among the many others honored there. From the hallowed ground of a place that taught us toughness, honor, humility, courage, commitment, duty, and allegiance – the bond that connects us all can never be broken.
A different-than-usual ceremony followed suit at Arlington National Cemetery this year, spread out over a number of days (13-19 December) and limited in attendance to families and the soldiers designated to lay wreaths on behalf of families who could not travel to the area. Brian Reardon, who visited Arlington on 13 December to honor his mom, and shared with us photos of two classmates who were laid to rest nearby – Brian Hoke and Tom Budrejko. In this month of December, the tail of a very difficult year for all of us, please pause and remember those of our ranks who paid the ultimate sacrifice and have preceded us over the rainbow bridge.
Rest in peace, classmates. We have the watch.
Honor the Fallen: Sponsor a Wreath on Giving Tuesday
Posted: 12/1/2020
There are more that a few charities worthy of our pennies (and dollars) on this Giving Tuesday, many of which need donations now more than ever. However, on eve of this Giving Tuesday, I call your attention to Wreaths Across America, whose mission is to "REMEMBER the fallen… HONOR those who serve… TEACH our children the value of freedom."
The ceremonies planned for both Arlington (19 December) and Annapolis (11 December) are both still in need of wreath donations. There are over 250,000 gravesites at Arlington, and another 2,600 at the Naval Academy. Arlington, in particular, is only a third of the way to reaching the donation goal. If you are able to contribute, please consider sponsoring a wreath (or more than one). To donate to the Arlington Cemetery Wreath laying ceremony, click here. To donate to the USNA Cemetery/Columbarium wreath laying, click here.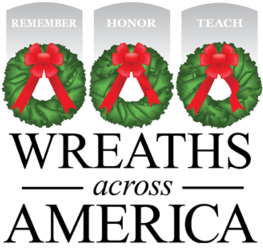 In the News: Mario Gonzalez Hits Milestone with Navy to Navy Homes
Posted: 11/29/2020
Throughout the month of November, I have been featuring classmates here on the website whose lives cross those of other veterans. Mario Gonzalez, Founder and Broker of Navy to Navy Homes in Jacksonville, FL, has certainly done that. Through his link with the Homes for Heroes program, Mario's business supports all members of the Jacksonville community, in addition to local heroes. Navy to Navy Homes has given over a million dollars to Jacksonville heroes in its less than seven years of existence, earning the accolade of top performer in the country. BZ to Mario! I read his comment on Facebook recently "Just trying to do my part in helping others." In the spirit of Yoda, I'd say there's no try about it… you're helping others, shipmate. I have spoken.
Contact: Mario Gonzalez (904) 900-4766 or mario@navytonavy.com if you are interested in property management, homes sales, or military relocation services in the Jacksonville area.
Press release (Ponte Vedra Recorder) here.
BEAT ARMY!!!
Recent Posts
Post Categories
Most Used Tages
Search the 1996 Site