News, Events & More
From the President: Class Project Update and MOU Signed
Posted: 5/29/2018
Email sent via Classmail 5/29/18
Class of 1996,
I'm happy to announce that after of about a year in work, we finally have our MOU signed between our class, USNA, and the Alumni Association. Based on feedback from you all and alignment with USNA priorities, here is our "Class Project":
Conservation of the First and Second-Class Benches and their supporting plinths and cannon (Bench Conservation) – 50% ($300k). See attached photos
Project Based Learning (PBL) – 27%
Athletic Excellence (AE) – 8%
Naval Academy Fund (NAF) – 15%
Shortly, our class project/funraising lead (Brian Reardon) will start our campaign to start raising funds so I won't steal his thunder. If you have specific questions, he'll be able to answer them.
I did want to point out, that if you don't like the ratio we picked, you can designate the proportion of your donation and where it goes to as long (as it's one of the four items). If you don't like any of the four, then you can still give to whatever you want and it will count toward our lifetime giving amount but not our project.
Coincidently, the All-Academy Challenge will be starting this Wednesday. The point of this is to get the highest participation rate (versus highest dollar value) between all the Academies. If you would like to donate during the Challenge, it will count toward our Project but it isn't directly a part of our fundraising effort.
Keep an eye our for details!
Beat Army,
Nagel Sullivan
In Memoriam: Teresa Elders
It is with a sad heart that I report Teresa Elaine Elders, "Tee", passed away on April 15, 2018, after a four and a half year battle against ovarian cancer. She was a bright light in this world and positively impacted all the people she met. I feel blessed to have known her. Tee lived life to the fullest and was so tough, she completed a triathlon with me in October 2017, just one week after a chemotherapy treatment. She was Commanding Officer of the USS Cape St. George (CG 71).  Attached is a photo of us at her change of command (in March 2017), and photos of her leading her Crew, which is how she wants to be remembered. She received the Legion of Merit award for her outstanding leadership of the Crew, and will be posthumously promoted to Captain.  Her memorial service was held on April 21, 2018 and was attended by classmates Brian Taddiken, Amy Brooks, Christie O'Connell, Frank Okata, and Peter Kim. Frank gave a moving eulogy at the service, as did Tee's brother, Thomas Elders ('98). I was lucky to be able to spend time with her during her last days and she asked that donations be made to a charity called Nine Girls Ask, which is funding ovarian cancer research. She is survived by her husband, David McCue, daughter Rachel McCue, brother Thomas Elders, and mother Min Elders. Rest in peace dear Teresa, you will remain in our hearts forever. – Michelle (Baumbich) Gray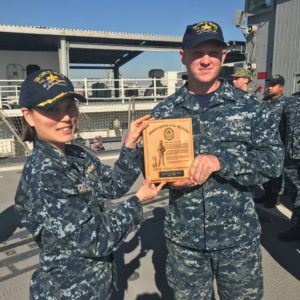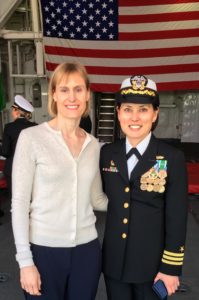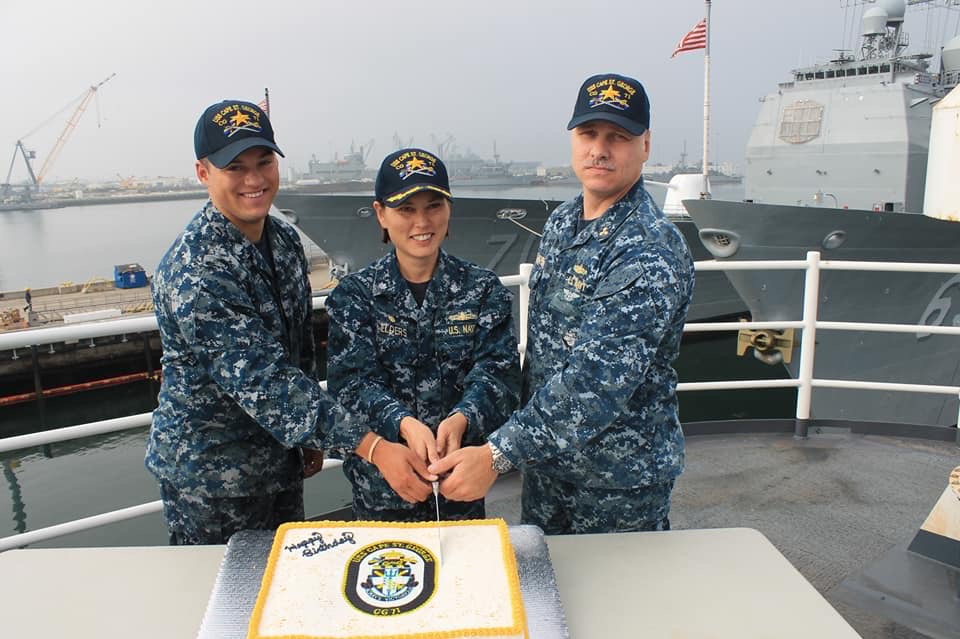 From the President: Class Updates and Spring COCP Report
Email sent via Classmail 5/4/18
Greetings Class of 96!
I recently attending the bi-annual Council of Class Presidents (COCP) at the Academy.  I wanted to pass along some of the things we talked about and keep you all informed on what is going on with our alma mater.
Official minutes from the previous council (Fall 2017): Fall 2017 COCP
Unofficial minutes from current council: Spring 2018 COCP Minutes from Nagel
Briefing from the Alumni Association and Foundation: Spring 2018 Foundation
Briefing from the Academic Dean: Spring 2018 Dean
Class Updates:
In sad news, I assume that most of you heard about the recent passing of our friend and classmate Teresa Elders on 15 April. Please keep her family in your thoughts and prayers. Please send any donations to NineGirlsAsk.
Let me know if you want your football parking pass at the 1996 tailgate spot.
A sincere appreciation for those

COMPANY REPS

that have been working with

Shane "Bruce" Mcdonald

to update your company's databases. There are still pockets of classmates out there that don't have current e-mail addresses in there.
Our

30 Year REUNION PLANNING COMMITTEE

has been plugging away at initial planning activities. With the football schedule getting published in Feb, the key is to have as much planned as possible so that you can execute a plan quickly. They are taking into account your responses from the 20-year survey and other classes lessons learned. Please thank Thomas Leahy for leading the charge!
Lastly, an update on our

30-Year reunion class gift

. Brian Reardon has been working with USNA to get our MOU written and signed. Unfortunately, it probably won't be done by the May All-Academy Challenge so anything we donate that week will not count towards our fundraising goal. Brian did great work trying to balance USNA strategic objectives, 96 Class desires, and realistic plans to come up with our fundraising goal.
Have a great weekend!
Nagel Sullivan
Service Academies Global Summit (SAGS) 2018
Posted: 5/28/2018
The 4th Annual Service Academies Global Summit (SAGS) will be held 13-15 June 2018 in Arlington, VA, at the Renaissance Arlington Capital View Hotel. SAGS is a fantastic opportunity for grads to come together to reconnect, build relationships, mentor, and collaborate.  Shared from a member of the planning team:
The summit theme is "Gripping Hands – Unifying Our Communities to Make a Difference Together" and the graduates in attendance will be from a broad range of academy generations and professional backgrounds, with leadership roles in numerous sectors. The Summit is always an inspiring, energizing and special gathering, and its purpose is to develop, inspire, and promote fellowship, leadership, professional development and service for the worldwide "super-community" of Academy graduates from the five U.S. service academies. The Summit is an extraordinary opportunity for learning, interaction, collaboration and exposure to new ideas and opportunities from speakers in exciting locales across the world. The Summit is a non-profit endeavor organized by graduates of all five U.S. service academies and is open to spouses/partners and guests of attending graduates. Links to the past summits' videos, programs and photos are on the website.
We're delighted to announce that Alex Gorsky, West Point '82 and CEO of Johnson&Johnson, will be the kickoff speaker on Wednesday, June 13. Please check out our website for latest speakers from all five service academies and latest agenda. We are expecting all five Academy Superintendents to attend this year, a unique part of this summit, which boasts a flavorful and interesting menu of events, speakers, and activities that foster growth, reflection and meaningful connection. We'd love for you to join us and please see attached flyer for highlights on select speakers.
Hope to see you there!
Career Corner: LinkedIn Thought of the Day
Posted: 2/20/2018
How's your LinkedIn profile these days? Are you wondering if it's optimized for potential transitions in your career? Here's another solid piece of work by John Tunison about careers and transitions in the form of a power point presentation he put together on making sure your LinkedIn profile is up to snuff. Check it out!
https://www.linkedin.com/pulse/demystifying-linkedin-how-create-profile-works-you-tunison-mba/
Gear Up for the 2018 Navy Football Season!
Posted: 2/18/2018
Believe it or not, August is right around the corner. So while you're dreaming of spring, start dreaming of tailgates! Tickets are on sale for previous season ticket holders, the official schedule is out and it's never too early to make plans to catch a game.
Priority deadline is 15 March for season ticket holders to maintain their previous seats. For details, see Navy Athletics.
If you haven't had season tickets in the past, tickets go on sale 29 March for Naval Academy Alumni Association Life Members, 11 April for USNA faculty, staff and alumni and 23 April for general public.
Don't forget Nagel is collecting coins for a new bar top to use under the class tailgate tent. Decals for the trailer are always welcome, too. Contact him for his mailing address. GO NAVY!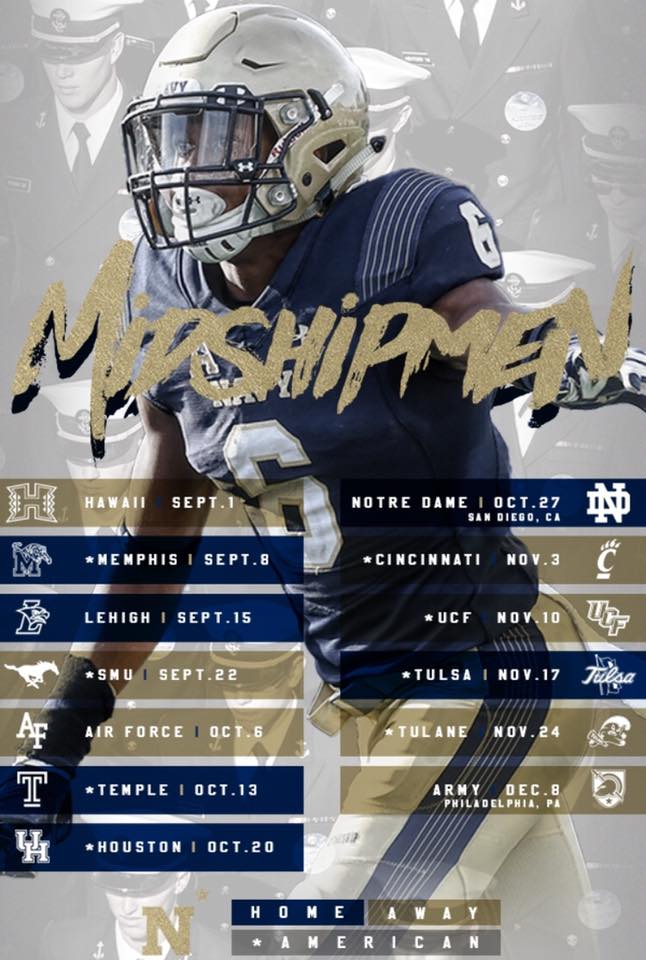 2018 Football: Navy vs. Notre Dame in San Diego
The Naval Academy Alumni Association recently put a package together for folks interested in travelling to San Diego to watch Navy as they take on the Fighting Irish. Details went out via email in late January, but if you missed it – or want more gouge – check out Anthony Travel online or call them at 1-800-736-6377.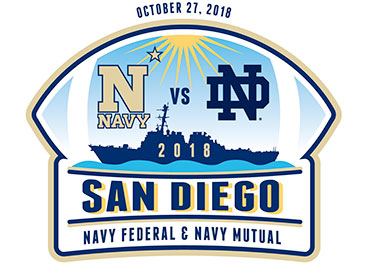 Let's fill these stands with Navy Blue & Gold! Go Navy, BEAT NOTRE DAME!
Article: Transitioning Advice for Former Military Officers
Posted: 1/4/2018
John Tunison wrote this article in October, 2017 (which you can also find on his LinkedIn page). Sharing for anyone transitioning from military to civilian careers, which is quite a number of us lately. It's also relevant if you're considering a career change in general, or advising someone who is. Take a look and share to your networks!
Advice for Navy Nuclear Officers (and other former Military Officers) on transition into business
In the News: Kim Mitchell Rocks the House with VVSD
Kim relocated to San Diego last July to become President and CEO of Veteran's Village San Diego (VVSD) and has been absolutely killing it out there. Kim does amazing work for veterans. Here is a video that UPS made featuring their partnership, which was aired for their annual Wished Delivered event leading up to the holiday season. Please check it out if you missed it on social media!
NCoS Call for Applicants: Multiple Disciplines
Posted: 12/29/2017
Jill (Quinton) Rough recently took a position as Director of Research and Analysis for the National Commission on Military, National and Public Service and is looking to hire new team members! Opportunities exist for folks in research, analysis, outreach (media/government affairs) or communications fields, per attached document. Feel free to share. Congrats, Jill!
Recent Posts
Post Categories
Most Used Tages
Search the 1996 Site