Army-Navy 2017… HELM YEAH! BEAT ARMY!
Posted: 11/30/2017
Sir, you now have 8 days and a wake up until Navy beats Army in football, sir!!! It's almost my favorite week of the year: Army Week! I'm sure you've all seen the HELM YEAH video circulating on social media, which is the latest in a series of installments we've enjoyed by ENS Rylan Tuohy and crew and I just can't watch it enough times.
Will Navy beat Army? HELM YEAH!
The T-shirts look wicked cool, and are still in stock as of today. I wasn't quick enough with my trigger finger on this year's Mules Can't Swim tees, so I made sure I got one of these. Check 'em out here: http://www.rylantuohy.com/store
There's a ton of events going on next Saturday, from our annual brunch at Tir Na Nog (approx. 0930) to the ESPN's College Gameday broadcast just outside the stadium and a '96 tailgater in Lot F. Bust out your cow bells, spirit buttons and goat hats and see you all out and about in Philadelphia! Stadium gates open at 1100, march-on of the Brigade is at 1215 and kickoff at 1500. Spirit gear is authorized… get pumped to BEAT ARMY! See you at the game, '96!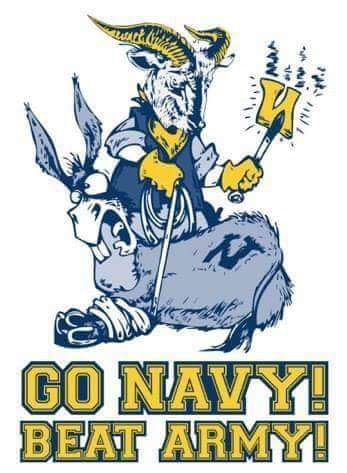 «
Honoring Brian Hoke: 2017 Antarctic Ice Marathon
BEAT ARMY!!!
Recent Posts
Post Categories
Most Used Tages
Search the 1996 Site